UAV/Drone Info
Latest Update 05/07/19
The main and most important reason for using an airplane, is to gain a superior vantage point, 1000 feet or higher to best demonstrate the relationship and value of a property to the surrounding area.
Did you know that since the FAA started its Part License program in October 2016, over 150,000 licenses have been issued in the US? That's an average of 3000 per state.  Of course, some states will have more than others.  There are over 30 drone business start-ups in Albuquerque that I know of. Plus most large construction companies and a number of real estate firms have their own drone.  This allows them to do the work at will, in house. They are still required to operate with a Part 107 license since this is commercial use. Bottom line: the market is flooded with low flying drones limited to 400 feet.  There are also hundreds of reported accidents and fly-a-ways, nation-wide. Many instances go unreported.
I offer commercial drone photography services under the FAA Part 107 Regulations. (List of requirements below) The drone/UAV is an additional service to the aerial photography services I have been providing for 40 years from an airplane. This gives the client the best of both types of photography.
Don't believe the marketing ploy of many who claim drone photography is cheaper than that from the airplane. True aerial photography is done with a full-frame sensor camera giving higher quality images. In one hour from the airplane, I can visit from 8 to 10 sites, all photographed in the local area, providing high quality overall and close up images, (look in our gallery). You then can reviews proofs that same day of the flight.
In the time it would take to drive to a site and set up a drone for one location and photograph it from 8 angles is time-consuming. It's to your benefit to compare quotes on these types of services. A still photo provides instant impact. A video requires production time and time for the person to view and absorb the information. A posted video also demands valuable time for a client to view. A still photo can provide valuable information and first impression in a few seconds.
Again, in most aerial photography assignments and specifications, one needs to be at least 1000′ feet above the ground to be able to show the relationship of a property to the surrounding area or to show an entire construction site for examples. The main advantage of a drone is to provide an aerial video that does entail post-production time.
There are specific situations where drone video could enhance a photographic program for a client, creating a unique, lower view. I do not see drone photography as a replacement to what I have been providing since drones are limited to only 400 feet above the ground. You can view more information in the short video presentation. You can see from the photo to the right, the size difference of the cameras used.
YouTube Sample Video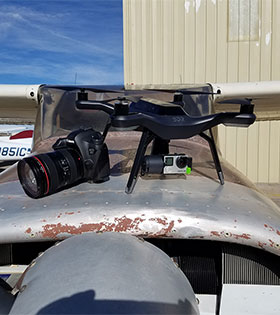 A Drone pilot in order to provide legal commercial photography must either be licensed under Section 333 or Part 107 of the FAA UAS regulations.
DRONE use – this is the list of requirements:
1. 400 ft AGL (Actual Ground Level) or less
2. Visual Line of sight (VLOS) at all times.
3. Must have a PIC (Pilot In Command)/operator and a VO (Visual Observer).
4. PIC must have at a minimum – Private Pilots Certificate – NOT REQUIRED on Part 107
5. PIC must have 25 hours time as a UAS rotorcraft pilot – NOT REQUIRED on Part 107
6. UAV may not operate within 5 miles of an airport
7. Must request NOTAM not more than 72 hours in advance and not less than 48 hours prior to the operation – NOT REQUIRED now.
8. Aircraft must have N Number markings
9. Documents required under 14 CFR 91.9 and 91.203 must be available at the ground station where the drone is being operated.
10. UAS cannot be operated from any moving device or vehicle (boats?)
11. The UA may not be operated over congested or densely populated areas.
12. Flight operations must be conducted at least 500 feet from all nonparticipating persons, vessels, vehicles, and structures unless (read list yourself, item 31, page 25)
www.faa.gov/uas Numerous people apparently feel they don't have to follow and abide by the FAA rules. This creates safety and liability issues. Now there are over 450,000 registered in the US. There is lots of misinformation out there about DRONE use. Below are more details regarding the issues. Here are important links to review, supporting my current decision.
Busting Myths about the FAA FAA Info
Real Estate Magazine Article – CAUTION on Drone usage
The best advantage of an aerial photo from an airplane is the vantage point of the camera, the person actually behind the camera making critical decisions to proper image capture and camera quality. For commercial real estate, the camera needs to be at least 1000′ above ground to show relationships of a property with the surrounding. With a drone being limited to 400 feet, you can mostly see treetops and no significant relationship with the surrounding. Drones/UAV, now approved for commercial use, serve as a great additional support to providing the traditional aerial photography. Many clients now get both. The main advantage of the drone is to produce a video of a project.
First – The FAA who has jurisdiction of all US airspace and the aircraft (manned or unmanned) that operate in the airspace, has issued regulations governing UAS (Unmanned Aerial Systems)/UAV (unmanned aerial vehicle). This includes flying a drone (quadcopter, hex copter, octa copter or RC (radio-controlled) plane, etc) with an attached camera, using it to do aerial photography to sell or to be used for the promotion of a business in any way, which is the main issue of concern. It may seem harmless, but there are many implications to address. When new technology comes along, it's important to embrace it and to act responsibly. Aerial photography has been a niche market up until the advent of the drones. Drones range in price from 400.00 up to 10,000.00. These drones can hover and or reach speeds up to 80+ knots. Most are GPS equipped. When flying one, here are some of the elements one has to learn, understand and become proficient at in order to try and fly safely: Altitude hold, Ascent, and decent, Yaw and throttle, Yaw trim, roll and pitch, pitch trim, camera zoom controls, camera tilt control, camera shutter, camera monitor to see what the camera sees to set up a photo, all while keeping an eye on where you are at, wind conditions, surrounding environments, people and battery life left to land back where you started. Not to mention any other unexpected distractions or interference from other radio frequencies.
Issues of safety, liability, reliability, license requirements, and privacy, must be worked out to help ensure safe operations, especially when used around crowds of people or around buildings. A falling object of 4 pounds or 20 pounds with moving blades, hitting something or someone, will cause damage or create distractions that can result in significant problems. This is a complex issue. Radio Controlled airplanes/drones have an altitude limit of 400′ above ground and are to be flown in remote areas. Drones/UAV have the same limit since they are in the RC category. At 400′ they get into areas where they can go out of sight, get into helicopter airspace, where having a drone hit a tail rotor would be catastrophic for the helicopter. Recently there are reports of drones being used above 400′. Multiple agencies are providing input into the development of the needed regulations for this activity, just as there are numerous rules, regulations, and licenses required for the safe operation of airplanes, helicopters, and hot air balloons.
The reality is, Part 107 FAA regulations are in place. Will there be compliance from those flying. How can you be at risk should you choose to fly without the license? Unfortunately, most drone operators operating out there now do not have an aviation background and are taking risks with other people and property to make a profit. As a long time professional aerial photographer, we believe this creates an unsafe environment. We prescribe to a "better safe than sorry" mentality.
In 2015, over 800 accidents have been reported.
Safe integration of UAS involves gaining a better understanding of operational issues, such as training requirements, operational specifications, and technology considerations.
I monitor information on this subject daily in several web discussions. I will keep this page updated as to when the process/service becomes legally available or for important ideas that relate to this subject.
I always appreciate feedback and other perspectives. Please feel free to send me an e-mail. My current active area of coverage is Albuquerque, Los Lunas, Belen, Rio Rancho, Santa Fe, Espanola, Taos, Las Vegas, Clovis, Farmington, Roswell, Alamogordo, Las Cruces, Santa Teresa, Carlsbad, Gallup, and Grants.
Most recent Web Posts – top of links
http://www.papainternational.org
http://www.faa.gov/about/initiatives/uas
http://www.theblaze.com/stories/2013/03/15/faa-halts-mans-drone-photography-business-over-regulations/
http://fstoppers.com/using-drones-faa-approval-photos-or-video-is-illegal
www.azcentral.com/news/politics/articles/20140114federal-ban-drones-photography.html
www.politico.com/story/2014/03/faa-small-drones-ban-104393.html