About Us – Core Values
My MISSION to Each Client: – As a LOCAL team player for your business and full-time photographer, I value your time and investment in the photographic services I provide. You deserve and should expect exceptional service which includes, specific and transparent information, cost-effective, professional digital photographic services, to create high quality, eye catching, photographic products from unique vantage points. You should receive clear, sharp, properly exposed, color corrected and composed images to best show the subject and finally to visually enhance the maximum impact of a first impression, for all projects, which assist in facilitating a quick response or action. You can expect confidentiality, in-house production which helps control turn around time and cost. I don't keep you going in circles….
CALL or E-MAIL NOW to ask questions, get booked on the next flight schedule or to request a free QUOTE.
Our clients, since 1978, use the images as IMPORTANT and VALUABLE tools to give their clients a clear visual picture of a project, which helps motivate people to take action.
We understand the importance and significance of making a great first impression!
By placings us on your team of experts at the beginning of each project, we assist in guiding you to the best photographic route to take. We help you with, cost-effective, one-stop-shopping for both Aerial (oblique or vertical), and/or Ground (On-site) Visual Data creation, custom-designed for each project, and/or presentation graphics (eye-catching, visual data), saving you valuable time in preparing the rest of your presentation.
We create the image, add custom color graphics, print, mount, and/or frame the prints. This creates a one-stop-shopping concept, allowing our clients to spend more of their valuable time on other aspects of each project. The investment in photographic images, help our clients present mental images to make a strong, clear, precise, first impression about their projects.
Eagle's Eye Photo is noted for: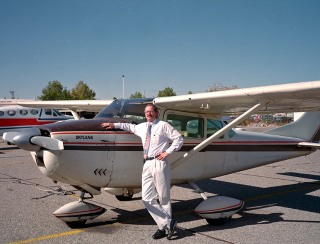 –  Confidentiality
–  Frequent Photo Flights
– Reasonable Rates
– Personal attention to detail
–  Completely Digital
–  FTP Electronic File Service
–  Large Stock File
–  Quick Turn-around
–  Custom Graphics
–  In-house digital lab
–  Custom Maps
–  Web site proofing
–  Local ownership
–  Multiple Options
About the owner:
My name is Lee Morgan (Full Bio – link above) and I operate Eagle's Eye Photo (EE), a full-time aerial photography business. EE started in 1978. I provide clients with 50 plus years of photographic experience + 40 years of flight experience + 40 years of professional aerial photography business experience. My experience is translated into high impact, high-quality images. My clients know they only invest in what they need. (You can learn more about my history in the bio.)
I believe clients will continue to use my professional service when I continue to offer them a quality product, multiple options to solve specific issues, tied to personal service, and a reasonable fee. I am in my 37th year of business, practicing this philosophy. In the past couple of years, technology changes with the advent of drones entering the mix, have certainly been a challenge. There are many who purchase a 1500.00 drone and think they will become an aerial photography business. Be sure to check this out carefully. There are many FAA regulations and licensing required under Section 333 or Part 107, to fly the drones legally in a safe manner. I have noted many instances where safety and regulations are not a concern, therefor there are liability issues.
EE specializes in providing current, custom aerial photography, both oblique and near-vertical photography throughout New Mexico. Clients include a diverse segment of the Professional fields including real estate brokers, developers, architects, engineers, marketing consultants, construction progress both aerial and ground, courtroom trial exhibits, Balloon Fiesta aerials of special events, and stock images.
EE is locally owned and operated, as an aerial photography business in Albuquerque, New Mexico, providing frequent aerial photo flights, creating digital images, and providing color prints with optional, custom color graphics, all done in-house, saving time, cost, turn-around-time and controls confidentiality. I create 3 dimensional, high quality, clear, crisp images in accordance with the needs of the client. You don't have to settle for old, outdated, low-resolution Internet aerial photos when you can obtain unique, current, real-time photographs showing current conditions and values of a project.
EE operates throughout NM and makes weekly flights. Each client benefits from 35 plus years of photographic expertise… making a great addition to any professional team, helping create valuable images, for a lasting 1st impression. CALL NOW for a QUOTE on your next project! Let's get started on making your great first impression.
Lee B. Morgan, MCAP *
* Master Certified Aerial Photographer
Past President & Network Member of:
Professional Aerial Photographers Assoc., International