ABQ Intl Balloon Fiesta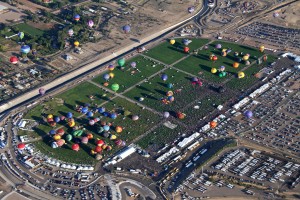 Every October, thousands of spectators come to the Albuquerque International Balloon Fiesta in New Mexico to witness this colorful event. For more than four decades, the first week in October has brought the smell of roasting chilies and the beautiful, magical moving picture show of hot air balloons sailing silently through the crisp fall air.
Each year since 1984 the Balloon Fiesta organizers choose Eagle's Eye Photo Imaging to document the Balloon Glow and Special Shapes Rodeo events held annually at the Fiesta. Complete information about the Balloon Fiesta can be found on the fiesta web site www.balloonfiesta.com
Aerial photographic images are a unique view of the fabulous event. Photos are only available through the Balloon Fiesta Official Souvenir Tent during the Fiesta, or from Eagle's Eye Photo Imaging after the event.